Hello Lovelies,
I'm sorry to keep you guessing on my crochet object. I haven't had time to get it photographed and write out the pattern, but I do have a good excuse.
The return to the school routine is always busy here with three boys to help doing homework etc . Plus I've been fitting in work and my final training runs.
Yes , this Sunday it's my BIG run of the year. I realize most of you arrive here for my craft and crochet but I've had so many lovely comments from lots people about my running posts too .You lot are simply wonderful with your encouragement. Thank you
♥
♥
♥
So why am I so excited about this half marathon ....after all it's not my first but my third.
Well, it's because it's
THE
Half Marathon .
The
GREAT NORTH RUN
....ooooh, I can't wait. I'm ridiculously excited about joining 55 thousand ( yes 55,000 ) other runners on the 13.1 mile course from Central Newcastle to the seaside town of South Shields. If you are not familiar with this event you can read a bit about it
here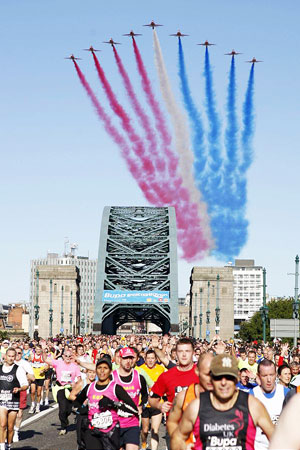 source
The organizers say it's the most iconic Half Marathon in the world.....I'm not sure if everyone would agree with that but it's certainly world famous and huge.
Luckily I'm going with a friend who is familiar with the event so hopefully that will make it less scary. Just having so many runners in one place is hard for me to imagine .
source
But I can't wait to take my place with the masses. The opportunity to take part in such an exciting race is one of the great things about running.
I'm even hoping to capture some photos during the race to share with you lovelies. If you are in the U.K. and feel like getting a glimpse of the atmosphere on the day it's live on BBC 1 from 9.30 am Sunday morning .
I'm not trying to set a fast time for this race......I'm going to soak up the atmosphere and enjoy myself. I'm running for a cancer charity and I'll no doubt be thinking of my friend Katie who sadly lost her battle with cancer earlier this year.
I'll leave you lovelies with a
link to a wonderful poem
which speaks volumes about this event to me. It was written by the poet Kate Fox as she took part in last years event
source
So please wish me luck for the big day lovelies.....it's great to be able to record my excitement here and I'll be sure to let you know how it went.
Jacquie x